Rojo Pacific & KATZ - When Less is Much, Much More
Rojo Pacific & KATZ - When Less is Much, Much More
8th Jun 17
Daniel Bitton, CEO of The KATZ Group, has a simple philosophy – 'less is more' – and when it comes to the revival of this historic company based on the banks of the River Murg in Germany's Black Forest, it's one which has served him well. Digital Image Magazine spoke to Bitton and Rina Tay, KATZ Senior Sales Manager for SE Asia, when they were in Melbourne last year to visit Rojo Pacific, the company's exclusive Australian agent for products including the popular KATZ Display Board.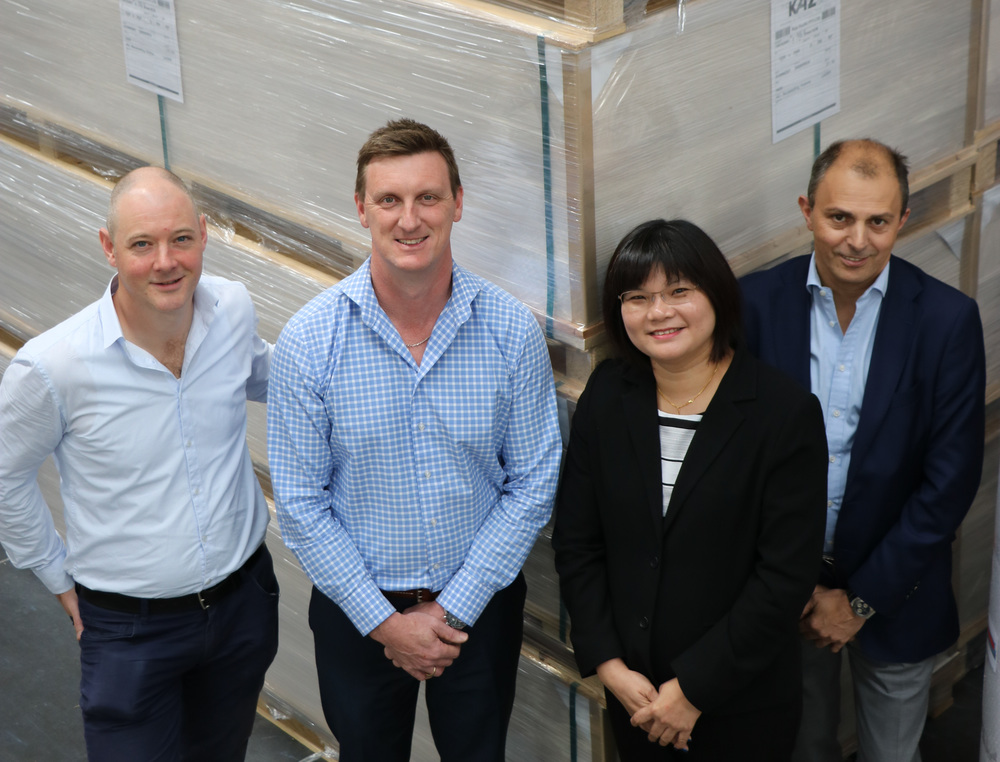 Pictured (L-R): Andrew Marrs and John Wright, Rojo Pacific, with Rina Tay and Daniel Bitton from KATZ Group.
In 2009, Daniel Bitton found himself in a somewhat unenviable position. Having taken the helm of a company which this year celebrates its 300th anniversary, he was excited by the opportunity to prepare for a new era…but very aware of the responsibility its legacy placed on his shoulders. "Certainly, you don't want to be the guy that ran an iconic company into the ground," he says with feeling.
While it's easy to laugh now, sitting in Rojo Pacific's spacious Melbourne headquarters, there's no question that back then KATZ was facing some serious challenges, with a business built solely on the production of beverage coasters. While KATZ was, and still is, undisputed global leader in this market, producing 3.5 billion coasters a year and exporting them around the world, it was a frighteningly narrow business base and Bitton knew he had to diversify.
"Wood fibre is, of course, a natural, renewable and versatile resource, and with three centuries of expertise, the team at The KATZ group knows how to make the most of its intrinsic benefits," Bitton explains. "Our challenge was to exploit this core competency and find more applications from which to build new revenue streams."
Fast forward seven years, and the strategy has been remarkably successful. The Group's beverage coaster business continues to grow apace and its expanding product range now includes sound board for architectural noise reduction, woodchip board for a wide range of industrial applications, and printable display board for marketing and display purposes.
It is this last product which has led to the exclusive partnership with Rojo Pacific, part of The KATZ Group's strengthening network in the region, which is growing under Tay's steady hand.
Managing Director of Rojo, John Wright, says the Display Board has provided an 'ideal complement' to his company's broad range of media solutions, which includes everything from vinyls and signage textiles, to poster films and papers, light box products, adhesive and laminating films and rigid signage materials.
The Woodchip Advantage
"KATZ Display Board is an unique, eco-friendly alternative to mineral-oil-based POS materials like foam board, PP flute and PVC," Wright says, explaining that its woodchip core makes it completely biodegradable, fully recyclable and impressively sustainable…but it's the board's outstanding performance characteristics which set it apart, making it perfect for even the most demanding printed POS applications.
Simply constructed with a woodpulp core laminated on both sides with poster paper, Display Board is a bright, white, lightweight board which comes in a range of lamination options, thicknesses and formats, and offers trouble-free single or double-sided printing and quick drying times using virtually any method from screen, to digital inkjet and even, with the 1.18mm option, offset.
"The results are excellent, with a level of sharpness and colour fidelity which makes it possible to produce even challenging photorealistic images…and the board can also be trimmed, scored, v-cut, notched and shape cut with excellent precision and superior cut edge quality, providing almost unlimited scope for creating eye-catching and effective POP displays," Wright says.
Additionally, and in contrast to media like screen board, its even density, absorbency and extremely stable composition means it doesn't warp or buckle. In fact, its inherent structural strength allows rigidity to be achieved with a lower gauge product, and without the need for harmful plastics.
This combination delivers more durable, longer-lasting results across applications from signage, to exhibitions and displays, retail POP and advertising placards – performance which Tay points out can extend the replacement cycle of marketing collateral, potentially saving retailers hundreds of thousands of dollars per campaign.
High Performance, Highly Sustainable
Like all KATZ products, Display Board is 100% natural with no added chemicals, not even in the glue which is specially sourced from Scandinavia – credentials which are the result of KATZ's almost unrivalled focus on sustainability.
As well as investing heavily in forest management and plantations, KATZ recycles 99.6% of its waste back into the raw materials cycle, generates 46% of the power for its plant from hydro in the River Murg and the mill's heat recovery system, and has a closed water loop which has halved waste water over the past four years and reduced its water consumption to about 10% of comparable mills. Advanced filtration ensures water which is returned to the river is purer than when it was drawn out, and the company has even created 'fish steps' to ensure the river's salmon population can safely navigate past the mill.
"Sometimes it seems excessive, but when you are situated on a beautiful, natural river surrounded by one of the world's most iconic forests, and when your livelihood and the wellbeing of your people and the surrounding community rely on the sustainability of this environment, a robust forest management and environmental strategy have to be much more than an aspirational aim. They have to be rigorously implemented."
Tay agrees, adding that with governments around the world increasing regulation in this area and introducing levies to discourage landfill waste, regulate the safe disposal of toxic materials and incentivise recycling, woodchip products become an even more practical and cost-effective choice.
"Display Board is both biodegradable and, with 70% virgin fibre content, perfect for the recycled paper stream," she says. "This makes disposal easier and cheaper than for synthetic products like Foamcor or Corflute. Even when print adds an unrecyclable element, the surface liner can be easily removed and the rest of the product recycled."
Quality Drives Success
This attitude dovetails neatly with Rojo Pacific's commitment three years ago to 'best practice in source and supply'. Wright explains that it's been a conscious decision to avoid the price-driven commodity market and instead focus on a balance of quality and performance which delivers genuine value to clients.
"It's one of the things which really impressed us with Rojo," Bitton admits, "they're a very professional and well connected supplier in this market, and their best practice approach makes them the perfect exclusive partner in Australia…and the supply of Display Board is just the beginning.
"Australian customers now have an excellent, single source supply for all KATZ products, and with the backing of our team's support, expertise and applications, can rely on Rojo as a true product specialist for this exciting range."
While Bitton and Tay headed home as this story was going to press, the impact of KATZ on the market here continues to grow, says Wright, with the product now 'really taking off'.
"KATZ Display Board has really impressed the market here and we can't wait to introduce it to more of our customers, and to the wider industry as part of our display at the PacPrint 2017 exhibition in Melbourne next May," he says.