Unique Composite Synthetics Arrive at Rojo Pacific
Unique Composite Synthetics Arrive at Rojo Pacific
14th Jul 17
A new range of composite synthetic papers has landed at Rojo Pacific's national distribution centre in Melbourne, with the company's MD John Wright saying the new additions will complement the company's Rodure range of synthetics and provide superior performance at a very competitive price.
​​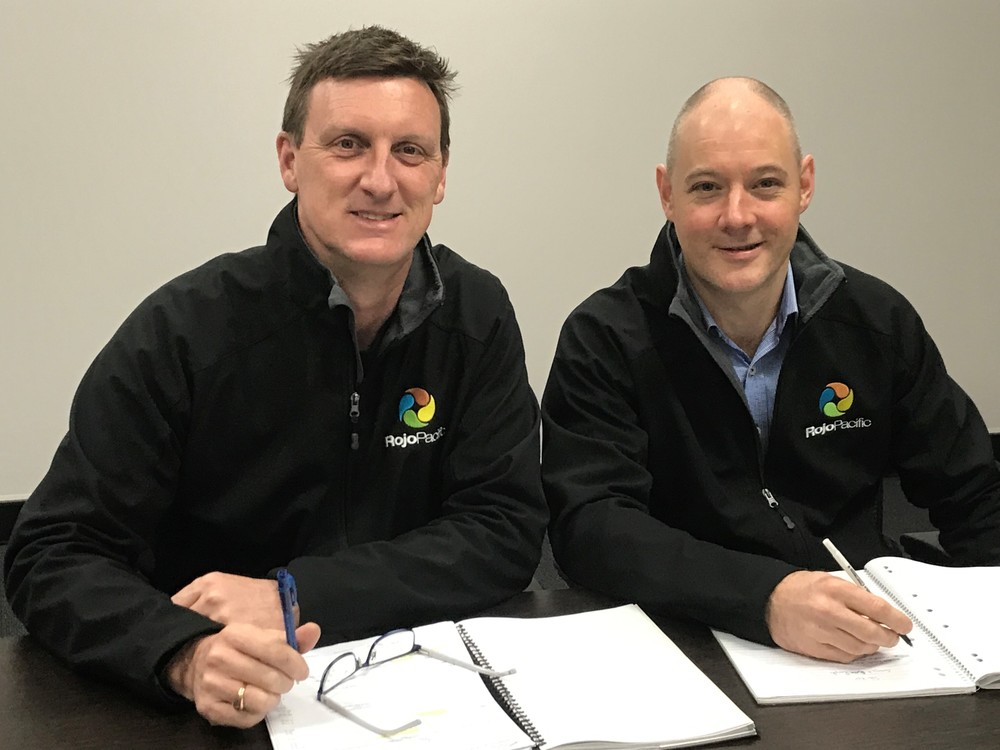 John Wright (L) and Andrew Marrs from Rojo Pacific.
Until now, synthetic papers have been single layer films, often coated and/or corona treated for printing, which can be used for applications from banners, outdoor posters and signs, to tags and labels.
Now, however, a unique new range of composite synthetics from Rojo Pacific is challenging the dominance of the market favourites, offering improved performance at a cost-competitive price.
The Rodure ML range is the result of advanced technology recently developed and brought to Australia exclusively by Rojo Pacific, which has more than 25 years specialist experience in the synthetic paper sector.
Wright, who says his company is constantly looking for the world's best high-performance products to add to its extensive range of wide-format media, heard about the manufacturer last year and travelled to their plant in September to evaluate their capabilities. He says he was 'blown away' by what he found.
"This company is manufacturing in a way I've never seen before, to create a range of unique, multi-layered synthetics which provide significant benefits over single-layer products, and can even be customised to suit specific applications," he says.
The process is all handled on the manufacturer's specially-modified production lines, which laminate and coat in a single pass to create an almost limitless range of products which Wright says are typically stronger and more durable than well-known synthetic papers, with improved initiated and uninitiated tear strength, flatness and shrink resistance.
"As well as enhancing performance of the standard products in the range, compared with single-layer papers, the multi-layer manufacturing process also allows for the creation of application-specific products – for instance, adding a blockout core between two thin sheets of white coated film to provide a truly opaque solution," he adds.
"Products can also be custom-built for specific applications – for instance, we can build up a product to reach a desired thickness, stiffness or rigidity, or supply products with different surfaces to suit particular print requirements."
Rojo Pacific has already taken delivery of the revised and well known UBlock & XTI-200 products, which are ideal for printed banners, offset graphics, tags and labels, with other products due to be added over coming months.
"This Rodue ML range really is a game-changer in the synthetic paper sector," says Wright. "We're looking forward to continued developments, and to bringing more of these unique products to the Australian market."
Rojo's new composite synthetics have arrived at the company's national warehouse.​​